Castello in Umbria – Dimora Storica e Residenza d'Epoca
Castello in Umbria  Castel in Umbria
Residenza Storica  Historical Residence

XII-XVI-XIX sec.
€ 18.540.000 trattabili

Asking price

negotiable
Destinazione urbanistica: Turistico ricettiva
Tourist accommodation
7 suite , 7 camere doppie, 1 camera singola, 1 appartamento per 4 persone.
7 suite, 7 double rooms, 1 single room, 1 Apartment for 4 people |

18 bagni

baths

2000 mq. superficie interna ca. 

Floor size approx. 2000 sq.m.



Il parco che lo circonda è di circa 8500 mq. ca.  

The

Land surrounding it is approx. 8500 sq.m.
Piscina con

Jacuzzi con aromaterapia e cromoterapia. Pool with Jacuzzi-type aroma and color therapy
I bagni del Castello sono 18. Tutte le suite e le camere dispongono di bagno indipendente iper-tecnologico con vasche o docce idromassaggio, bagno turco, aromaterapia, cromoterapia. The bathrooms at the Castle are 18. All suites and rooms feature a super-technologically independent bathroom with whirlpool or hydro massage showers, Turkish bath, aromatherapy, chromotherapy.
3 cucine di grandi e medie dimensioni completamente attrezzate.

3 large and medium sized fully-equipped kitchens.
Circa

100 stanze. Almost 100 rooms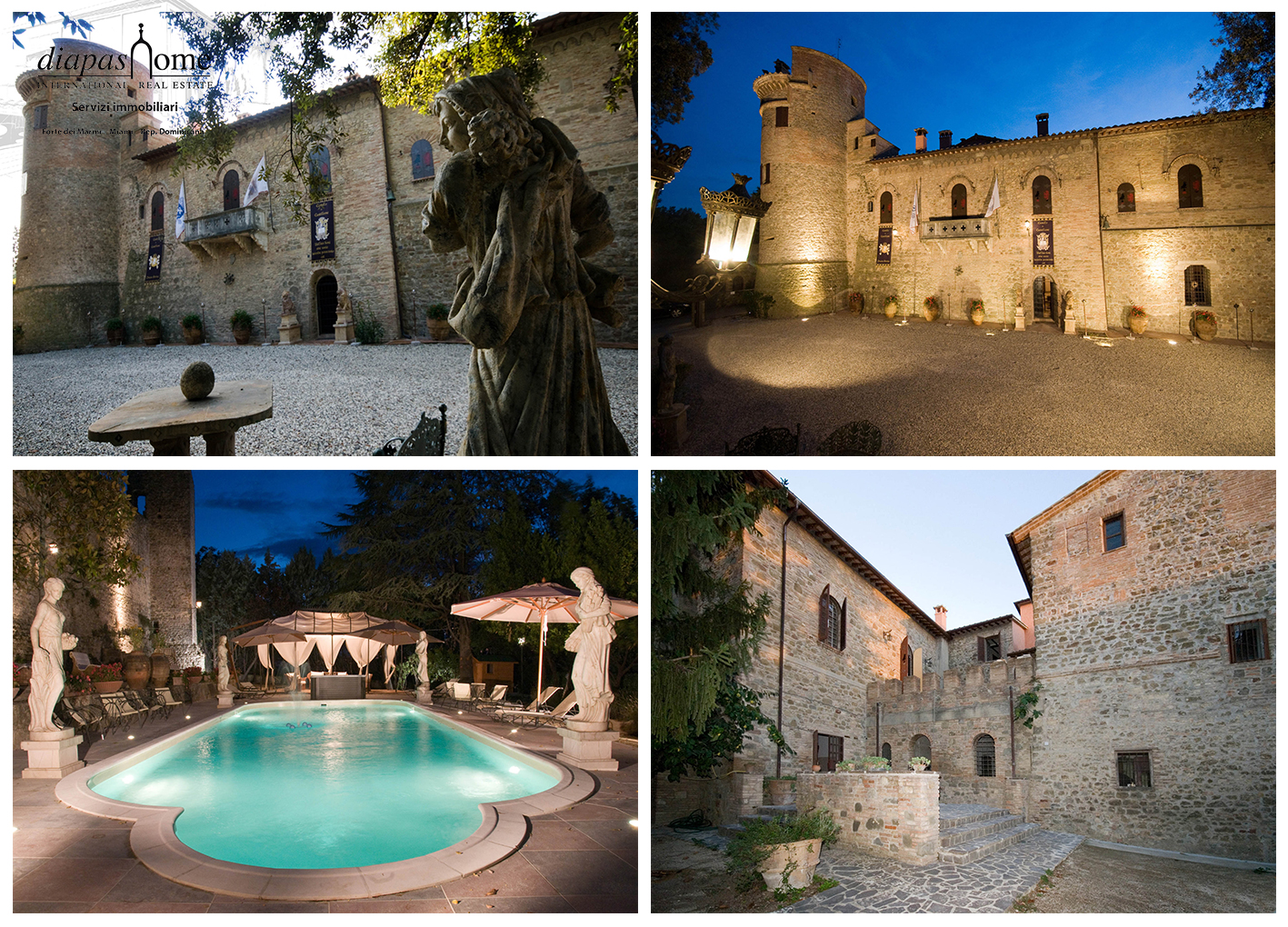 L'Immobile, costituito prevalentemente da muri in pietra, da mattoni antichi faccia a vista e da parti intonacate, si estende su una superficie interna di oltre 2000 mq. utili (più circa 500 mq. di soffitte) sviluppandosi in quasi 100 stanze.
The Property, consisting predominantly of stone walls, old brick face brick and plastered parts, covers an internal surface of 2000 sqm. useful (plus about 500 square meters. attics of) growing in almost 100 rooms.
La pertinenza di terreno che lo circonda è di circa 8500 mq. prevalentemente piantumata con alberi d'alto fusto quasi tutti secolari (querce e lecci) ed a parco e giardino a terrazzamenti degradanti fino alla piscina. Quest'ultima è posizionata ai piedi delle mura del Castello ed è del tipo "a skimmer", di formarettangolare con uno dei lati corti a forma di semil una provvista di scala romana. La piscina presenta una lunghezza di mt. 12,5 ed una larghezza di mt.6 ed è provvista di vasca idromassaggio termale di 8 mq. del tipo Jacuzzi con aromaterapia e cromoterapia. Adiacente alla piscina si trova un pozzo in pietra e mattoni antichi.
The relevance of land surrounding it is about 8500 square meters. mainly planted with tall trees almost all secular (and holm oak) and park and garden terraces sloping to the pool of mt. 12.5 x 6 positioned at the foot of the castle walls equipped with a whirlpool of 8 square meters Jacuzzi-type aroma and color therapy. Adjacent to the pool is a stone well and antique bricks.

Il Chiostro interno – Antico Cortile del Castello, circondato da un elegante Porticato a forma di L, è racchiuso nella parte del fabbricato che guarda a nord-ovest con al centro un altro pozzo-cisterna in mattoni antichi tutt'ora funzionante.
 The Cloister (ancient courtyard) is contained in the interior of the building that faces north-west with another well in the center tank-brick old still working.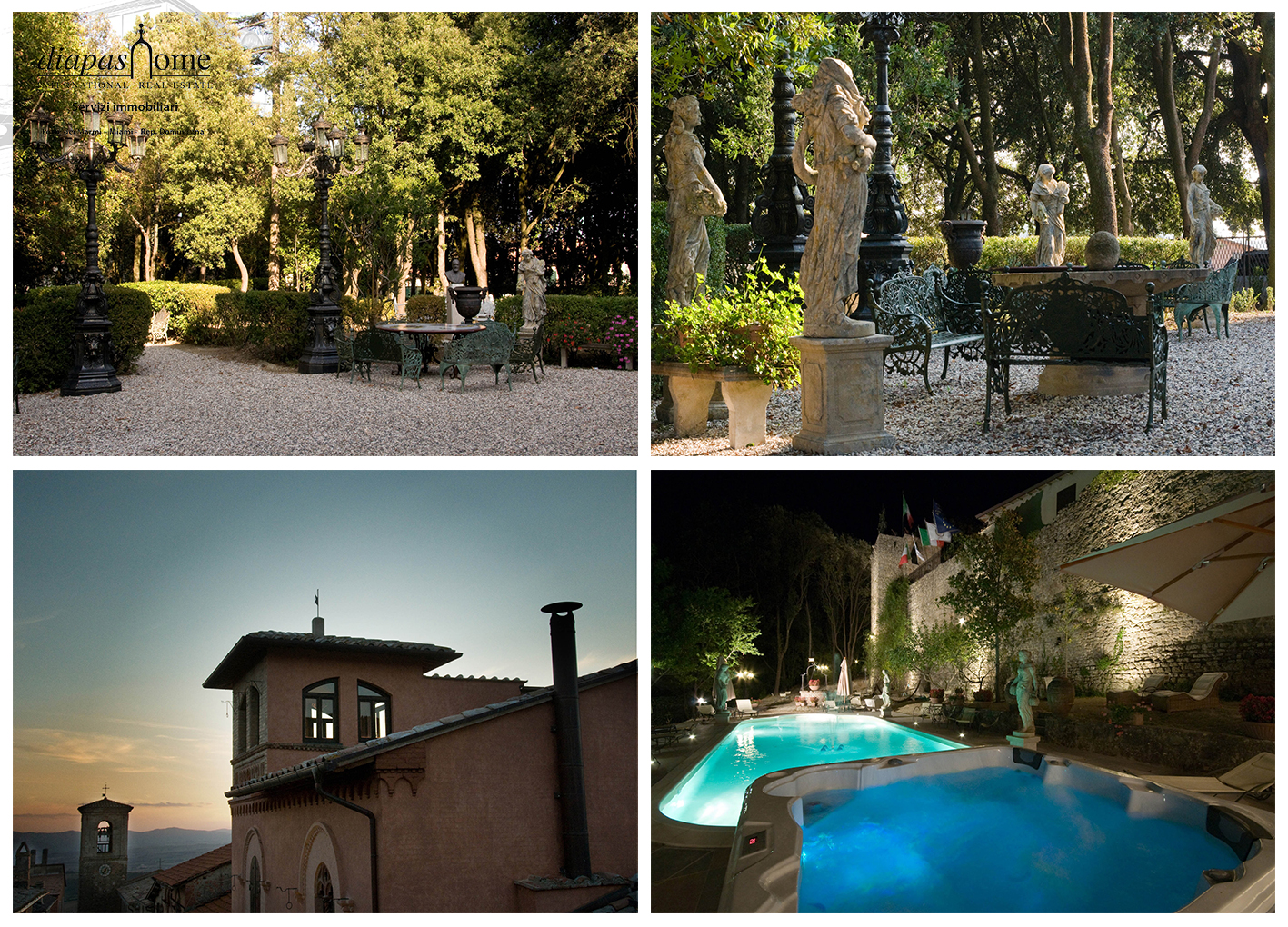 Gli interni, oltre ai grandi saloni di rappresentanza, alle sale storiche,ai lunghi corridoi abitabili, ai numerosi pianerottoli e vani scale abitabili, ecc., si compongono di: 7 suite matrimoniali con possibilità del terzo letto, ognuna con salottino, ampi bagni o salle de bain attrezzate con le più moderne tecnologie quali vasche e docce idromassaggio con aroma-terapia, cromo-terapia, ozonoterapia e bagno turco.
The interiors are made up of seven-suite bedrooms with possibility of extra bed, each with spacious bathrooms or salle de bain equippedwith the latest technologies such as bathtubs and showers witharomatherapy, chromo-therapy, ozone therapy, turkish bath andradio.

Gli Appartamenti Padronali, disposti su due piani, presentano 4 camere da letto matrimoniali con possibilità del terzo letto (ognuna con bagno indipendente ipertecnologico attrezzato come sopra).
The manor apartments ontwo floors, have four double bedrooms with the possibility of a third bed (each with bathroom facilitiesas above) called the master bedroom, the bishop's room, guest room, apartment of the Lady of the Company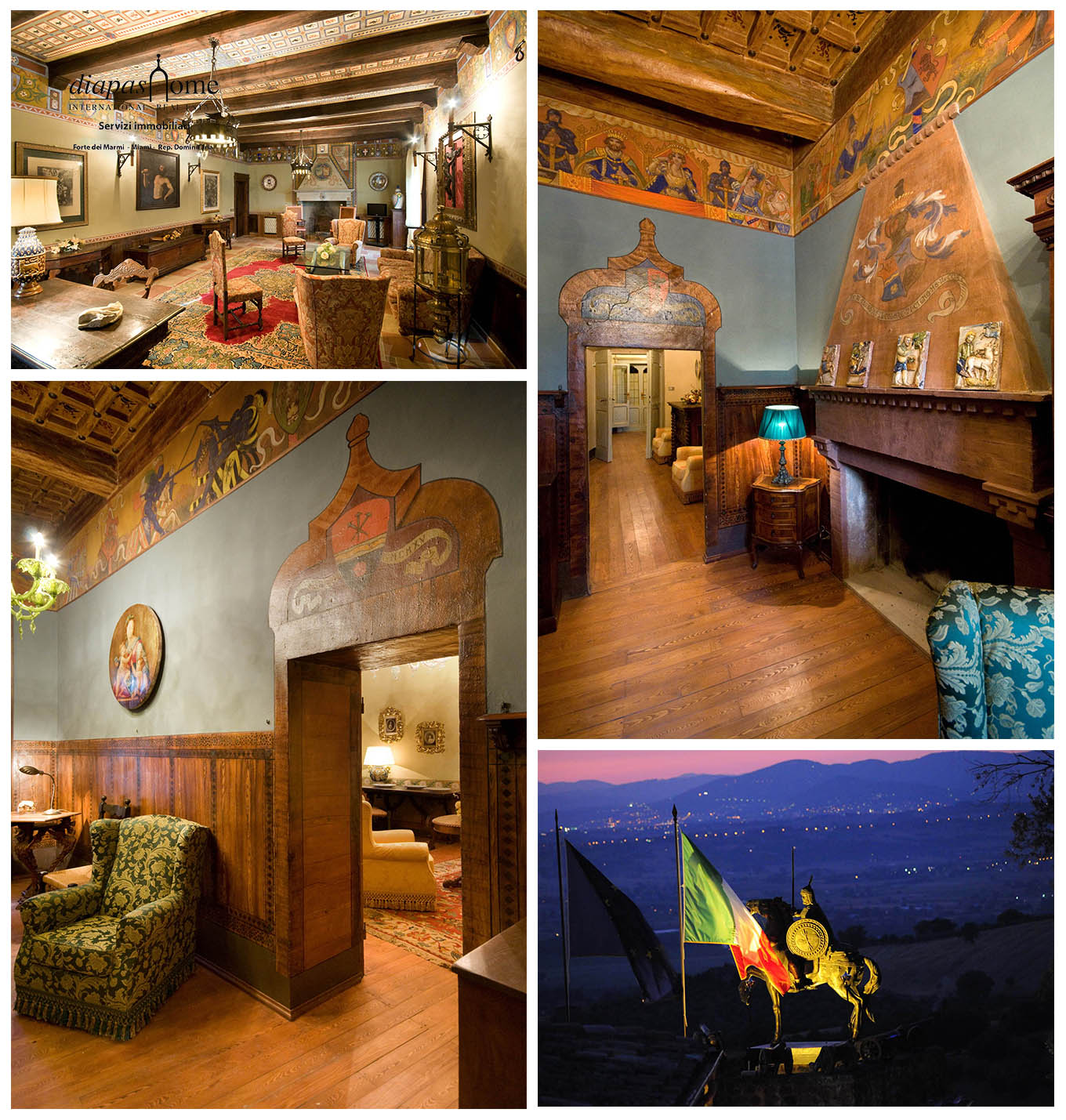 Nella Torre sono disposte su 4 livelli altre 4 camere da letto (3 matrimoniali ed 1 singola) collegate fra loro da una scala elicoidale. Al primo livello della Torre Longobarda (ingresso Piscina) sono collocati 2 bagni attrezzati come sopra. Nella Foresteria del Castello si trovano due stanze (una a tre letti ed una singola) con bagno attrezzato anche uso handicap.
In the Tower there are over 4 levels other rooms double room connected by a spiral staircase. At the first level of the tower are located 2 bathroom amenities. Guest House in Castle there are two bedrooms (one double and one single) with bathroom facilities also use handicaps.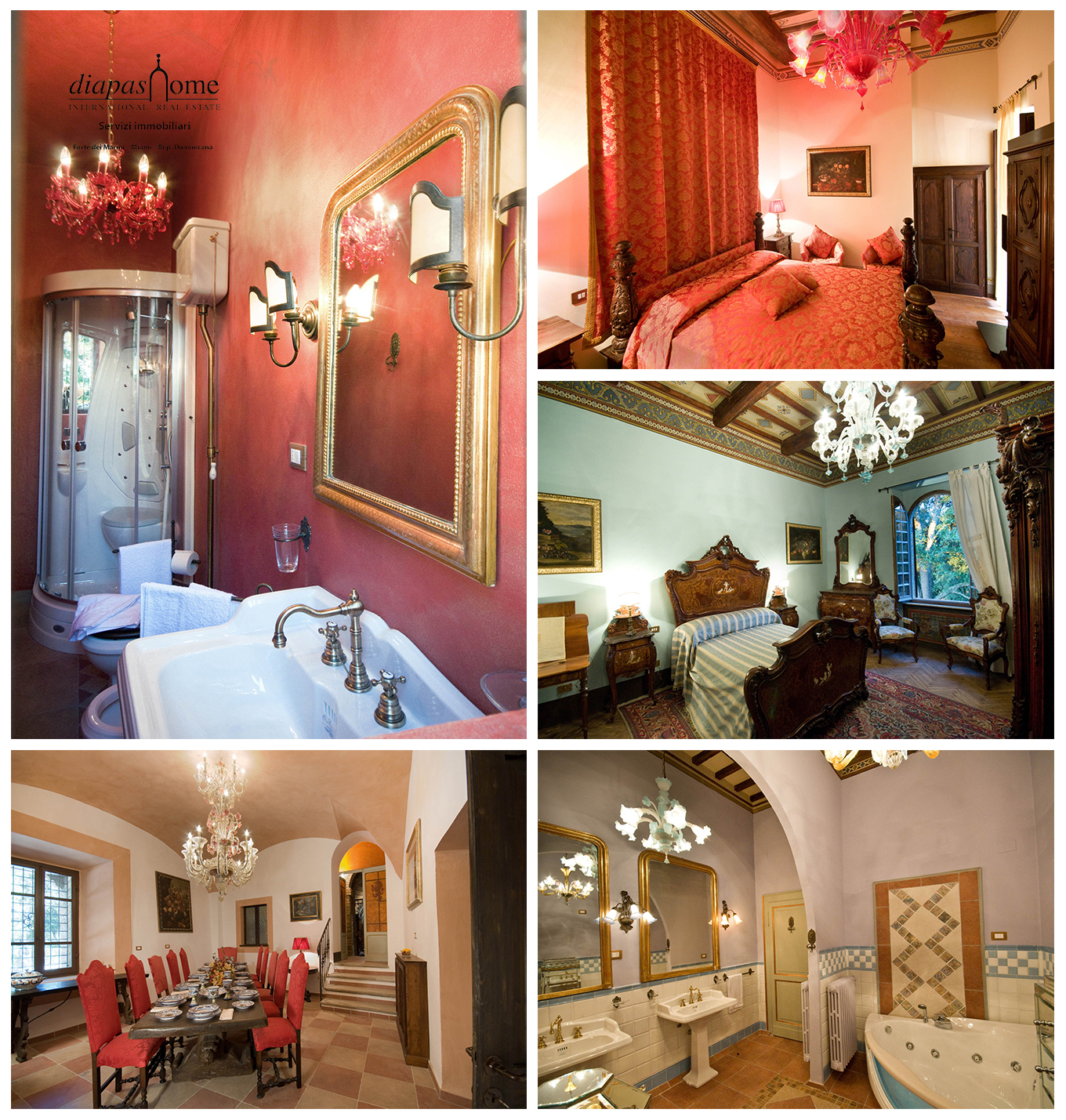 Al piano terreno si trovano numerose sale e saloni di rappresentanza anche di grandi dimensioni come il Grande Salone degli Armigeri – Antica Armeria (oltre 100 mq., il più grande del Castello), l'Antico Refettorio dei Capitani, il Grande Ingres so sul Borgo e Scala Rinascimentale, la Sala Neo-Gotica dipinta, la Sala di Guardia, la Sala d'Armi, la Saletta di passaggio e Grottino, l'Antica Galleria e ingresso principale del Castello, la Galleria e Sala delle Collezioni, l'Andito d'ingresso al Parco con i sottostanti Cunicoli sotterranei medioevali che conducono all'Antica Cisterna Medioevale tutt'ora esistente, la Grande Sala da Pranzo Rinascimentale, l'Antica Cucina del Castello e l'Antica Cappella.
On the ground floor are several rooms and halls of representation also large as the Great Hall of Middle-age Soldiers (100 sq meters, the largest of the Castle), the Old Refectory of the Captains, the Great hall on the Village and Renaissance Scale, Neo-Gothic Painted Hall, the Guard Room, the Hall of Arms, the passage and Grottino Seating, Antique Gallery and the main entrance of the castle, and the Gallery Room of the Collections, the vestibule entrance to the Park with the underlying medieval underground tunnels that leads to the ancient medieval cistern still exists today, the Renaissance Great Dining Room, the Old Cuisine of the Castle and the Old Chapel.
Collegato alla Grande Cucina del Castello un ampio Porticato, richiudibile con vetrate antisfondamento scorrevoli, conduce alle due Salette coperte del Chiostro che, a loro volta, mettono in comunicazione con la Torre Longobarda e le sue citate camere da letto e relativi bagni.
Connected to the Great Kitchen of Castle closed with a large porch leads to two rooms covered windows of the cloister, which in turn communicates with the tower and its Longobard cited rooms.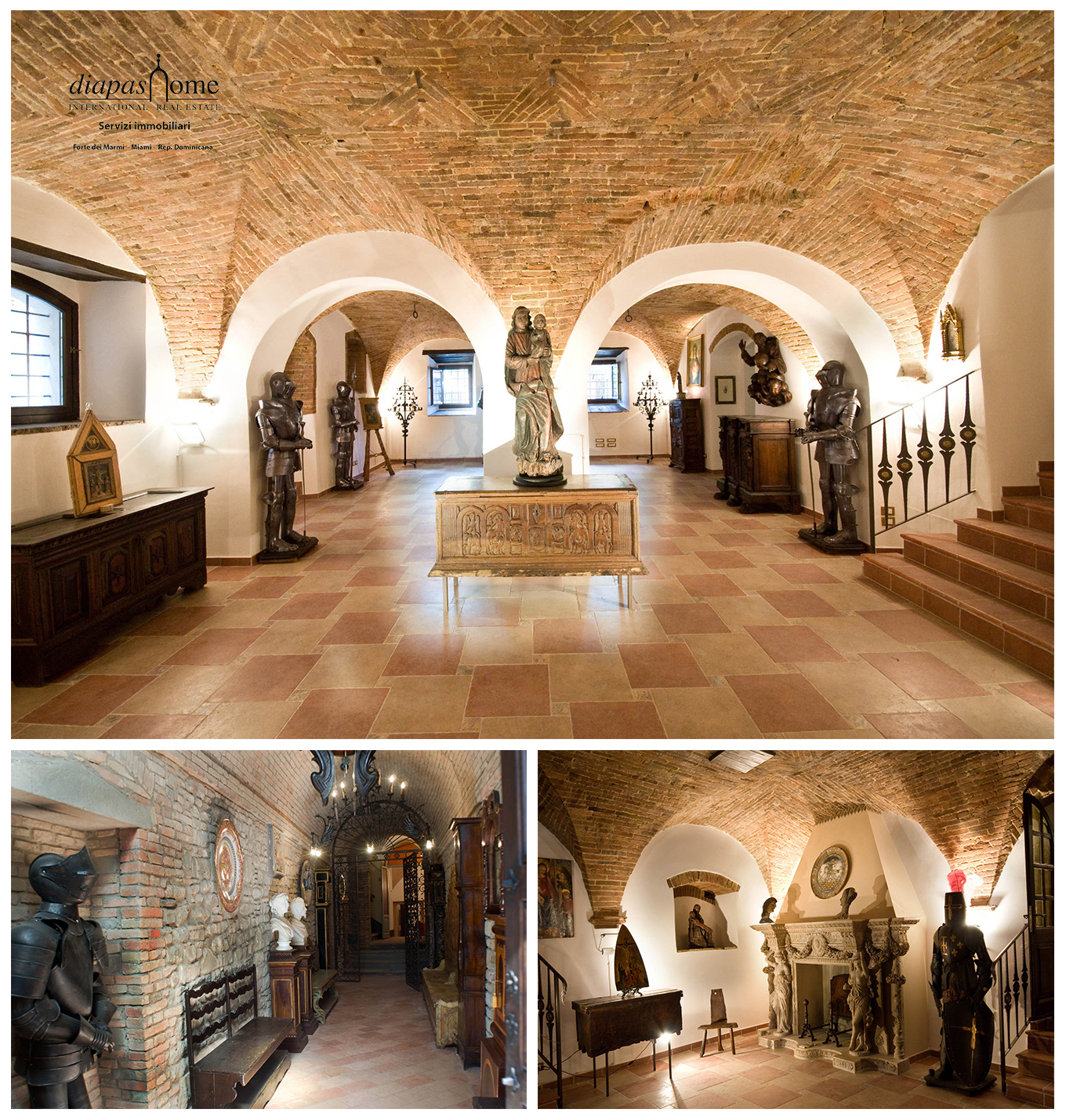 Al Piano Nobile del Castello sono situate anche la Sala d'Oro, l'Antica Biblioteca, l'Office e la Sala Rinascimentale, attraversando la quale è possibile entrare nella citata Torre degli Sposi-Mastio principale del Castello divisa in 4 livelli. Da rilevare come tutto il Piano Nobile del Castello, inclusi i diversi corridoi di collegamento, presenti decori parietali e a soffitto sia a tempera che a fresco con motivi floreali geometrici, naturalistici, scene galanti, sce ne militaresche di ambito feudale e rinascimentale, scene storiche, ritratti e cartigli con motti in italiano e latino, sempre diversi per ogni ambiente e storicamente connaturati ad esso.
The main floor are located also the Golden Hall, the Old Library, the Office and the Renaissance Hall where you can enter the Tower of the main-mast Wedding Castle divided into 4 levels. Be noted that throughout the main floor of the Castle Castelleone including several connecting corridors, these wall and ceiling are decorated entirely in tempera than fresh floral geometric, naturalistic, gallant scenes, scenes of military feudal context, etc., always different in each environment.
Il perimetro complessivo dell'Immobile è di circa 800 mt. comprendendo tre strade. Il Castello è servito da nove accessi di cui tre dal Parco (con grandi cancelli in ferro battuto cuspidati e automatizzati), uno dal cortile interno, uno direttamente dal Parco collocato sulla facciata principale dell'immobile, tre dal Borgo interno su via della Libertà e uno sul vicolo dell'Ulivo.
 The total perimeter of the property is approximately 800 meters. including three roads. The Castle served for nine hits including three from the park (with big wrought iron gates and automatic cuspidate), one from the courtyard, one from the park located directly on the main facade of the building, three from the Village on Liberty road and one on the Olive alley.
Planimetrie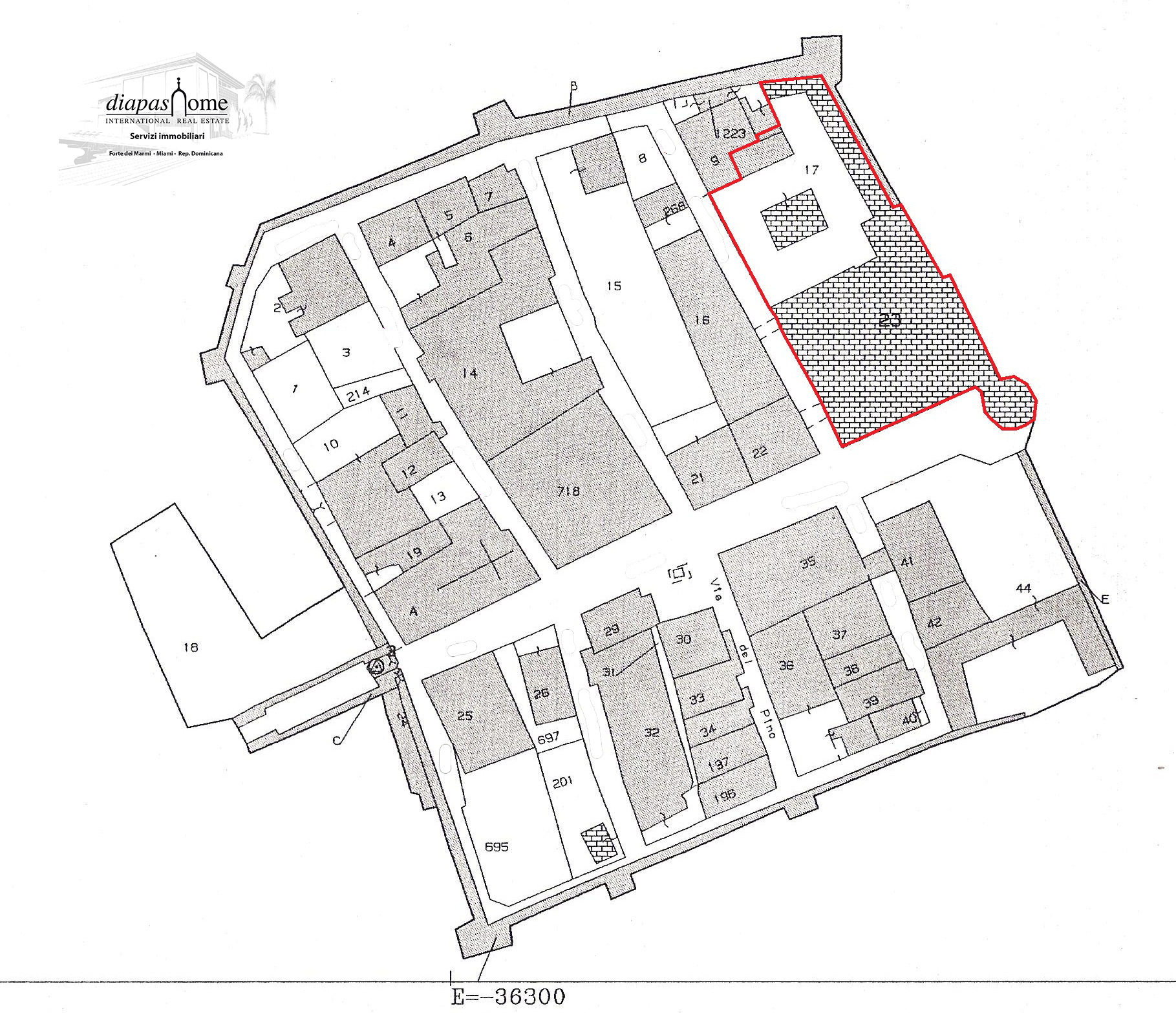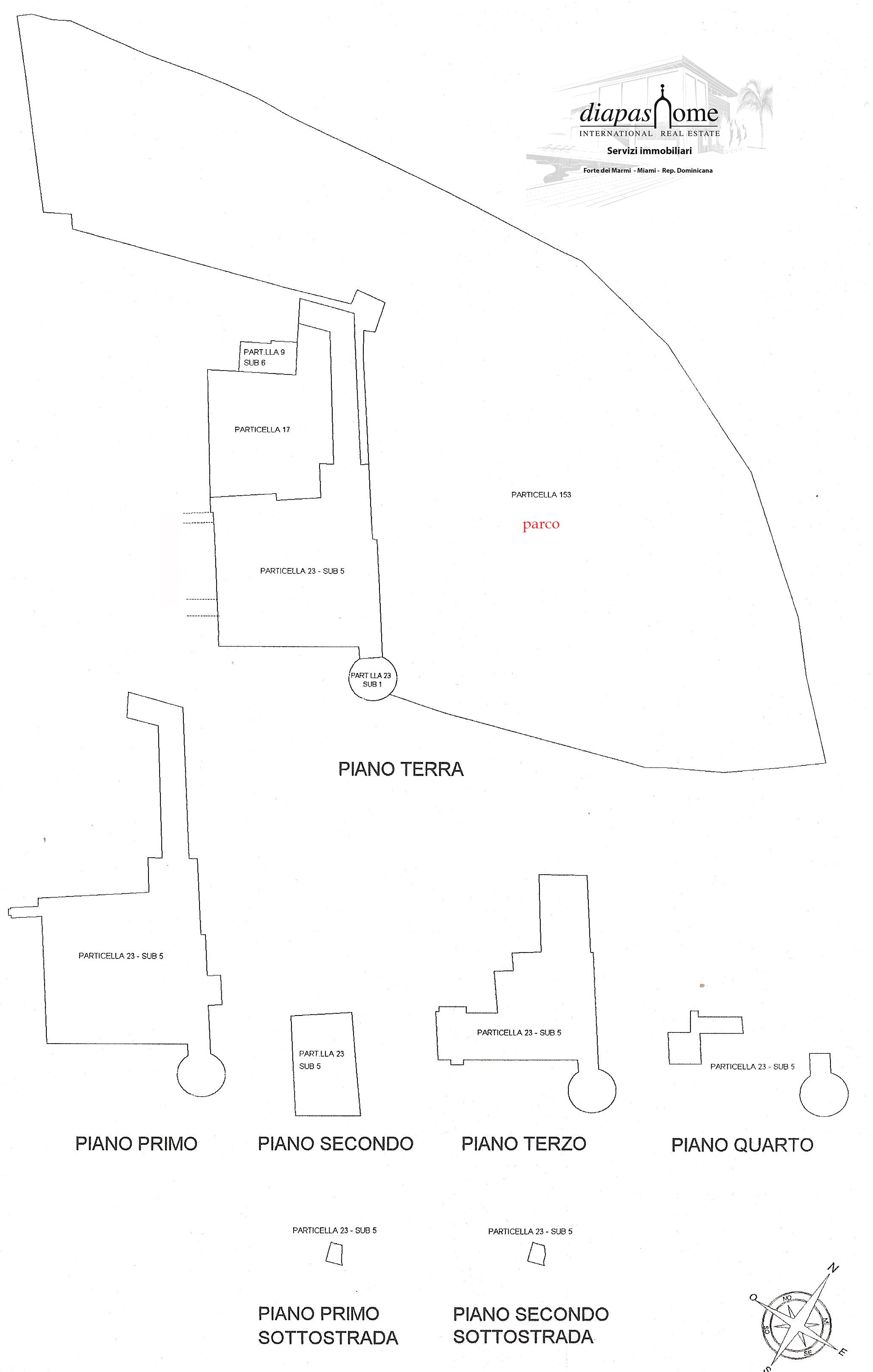 Tags:
castello, comforts of home, estate, firenze, garden, giardino, holiday, investimenti, italia, luxury homes, piscina, real estate, swimming pool, umbria, vacanze, villa