Villa dei Colli, Firenze – Toscana
Villa dei Colli, Firenze – Toscana
€ 3.600.000 trattabili

5

camere /

5

bagni

superficie giardino

18.000

mq
campo tennis, piscina, idromassaggio

gazebo

60

mq

proprietà completamente recintata

Large outdoor spaces, Great pool, Wooden gazebo, Outdoor lounge. Space for heliport, asphalted. Outdoor whirlpool, 5 sumptuous bedrooms with bathroom and terrace. Living room with fireplace. Front paver with horse chestnuts.

Questa lussuosa villa residenziale di ampia metratura, sorge in un ambiente unico ed esclusivo, nel cuore della campagna toscana sulle colline di Firenze, con vista sulla campagna circostante privilegiata. E' circondata da ulivi e campi di grano, oasi di serenità, luogo tranquillo e senza affanni. L'armonia ricercata tra ordine e naturalità crea scorci spettacolari. Si trova a pochi km da Firenze e nella campagna circostante ci sono fattorie per la produzione di olio, vino.
Luxury stunning villa in a unique and exclusive environment,  in the heart of the Tuscan countryside on the hills of Florence, with an aerial view of the surrounding countryside, surrounded by olive groves and wheat fields, oasis of peace, and quiet .
The  harmony between order and nature creates spectacular views. A few kilometers away from the city of Florence, on the hills of Bagno Ripoli, south of the city in the heart of the Chianti Fiorentini Hills. In the surrounding countryside there are farms with the production of oil, wine. Close to the VILLA there are small, delightful and romantic churchs.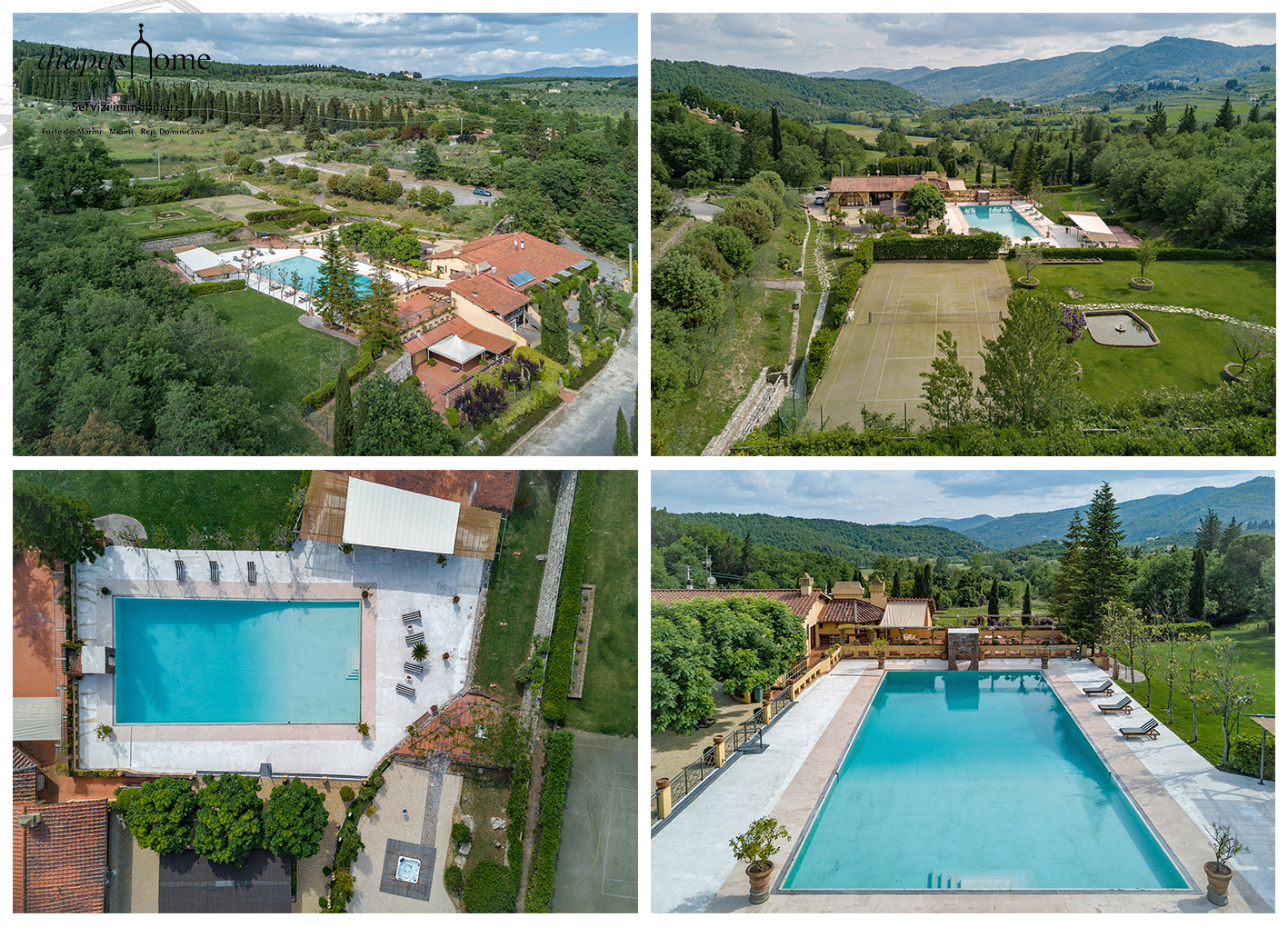 La dimora è completamente circondata dal giardino (18.000 mq) con aiuole alberi e prati tutti irrigati automaticamente, con illuminazione diffusa notturna. La proprietà è libera su 4 lati e completamente recintata, con cancello automatico di accesso e strada asfaltata di ingresso.
The residence is completely surrounded by the garden (18,000 sq m) with flowerbeds trees and lawns all automatically irrigated, with diffused lighting, the property is free on 4 sides and fully fenced with automatic access gate and paved entry road.
L'abitazione  si sviluppa tutta su di un solo piano, più  un seminterrato, con finiture di pregio: nelle camere parquet massello di abete, porte di pino decorate a mano, nei bagni piani di mogano e lavabi in marmo, nella sala pavimentazione in cotto, travi a vista. L'intera struttura è corredata di impianto di riscaldamento e aria condizionata.
The villa  is spread  on a single floor, plus basement, with fine finishes. In the rooms there are hardwood fir , and-decorated pine doors, mahogany floors and marble washbasins, paving brick, beamed. The whole structure is equipped with heating and air conditioning.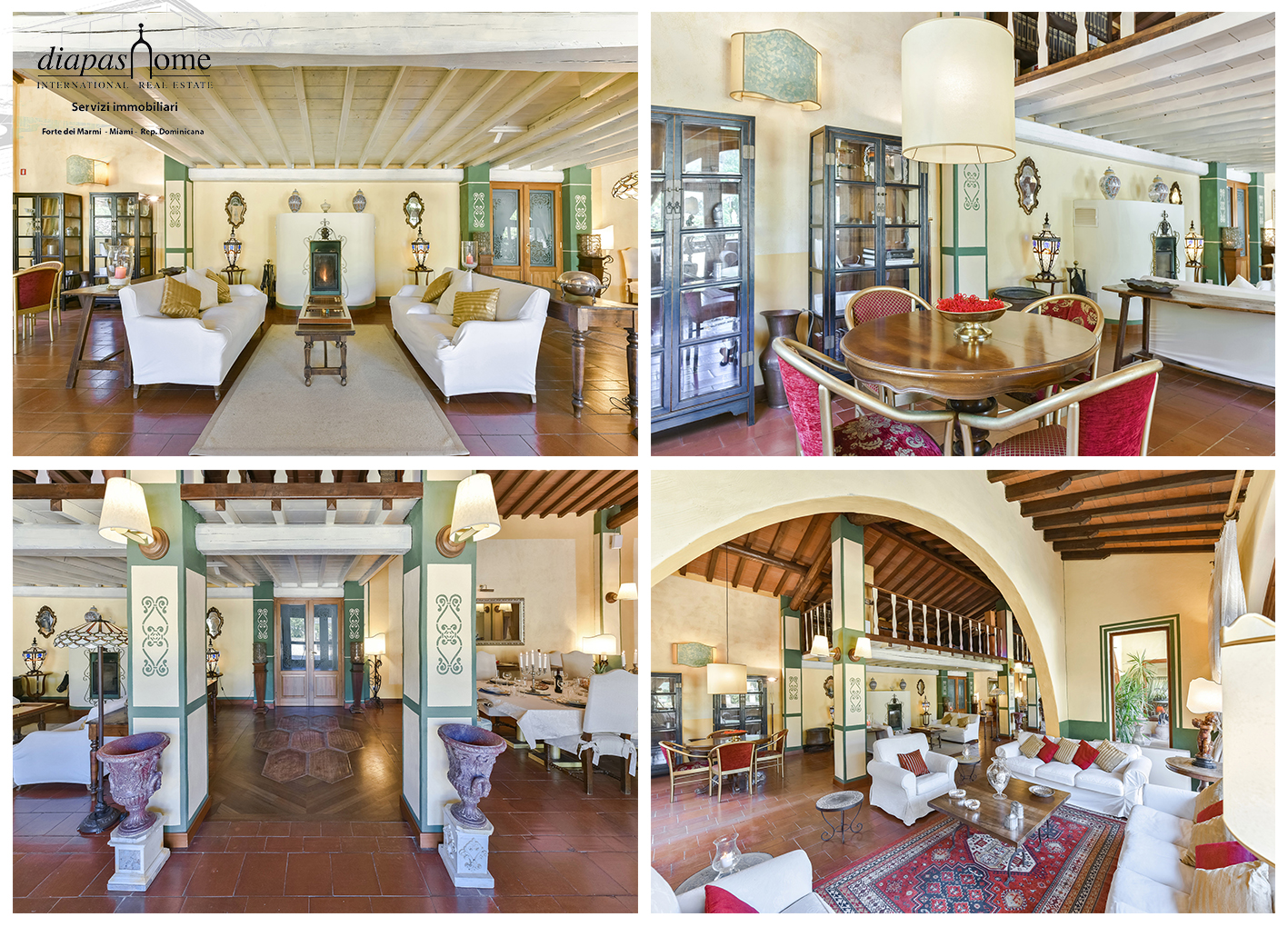 Ogni camera (5 matrimoniali) ha una grande vetrata che si affacciano sulla terrazza esclusiva, con la vista sul giardino, orientate verso sud;  sono tutte corredate di bagno privato con doccia, con infissi in pino e doppio vetro termico; la terrazza crea un angolo di privacy all'interno della dimora.
Each room (5 doubles) has a large window overlooking the exclusive terrace, overlooking the garden, facing south; All the rooms have private bathroom with shower, pine and double glazed windows, the terrace creates a corner of privacy inside the mansion.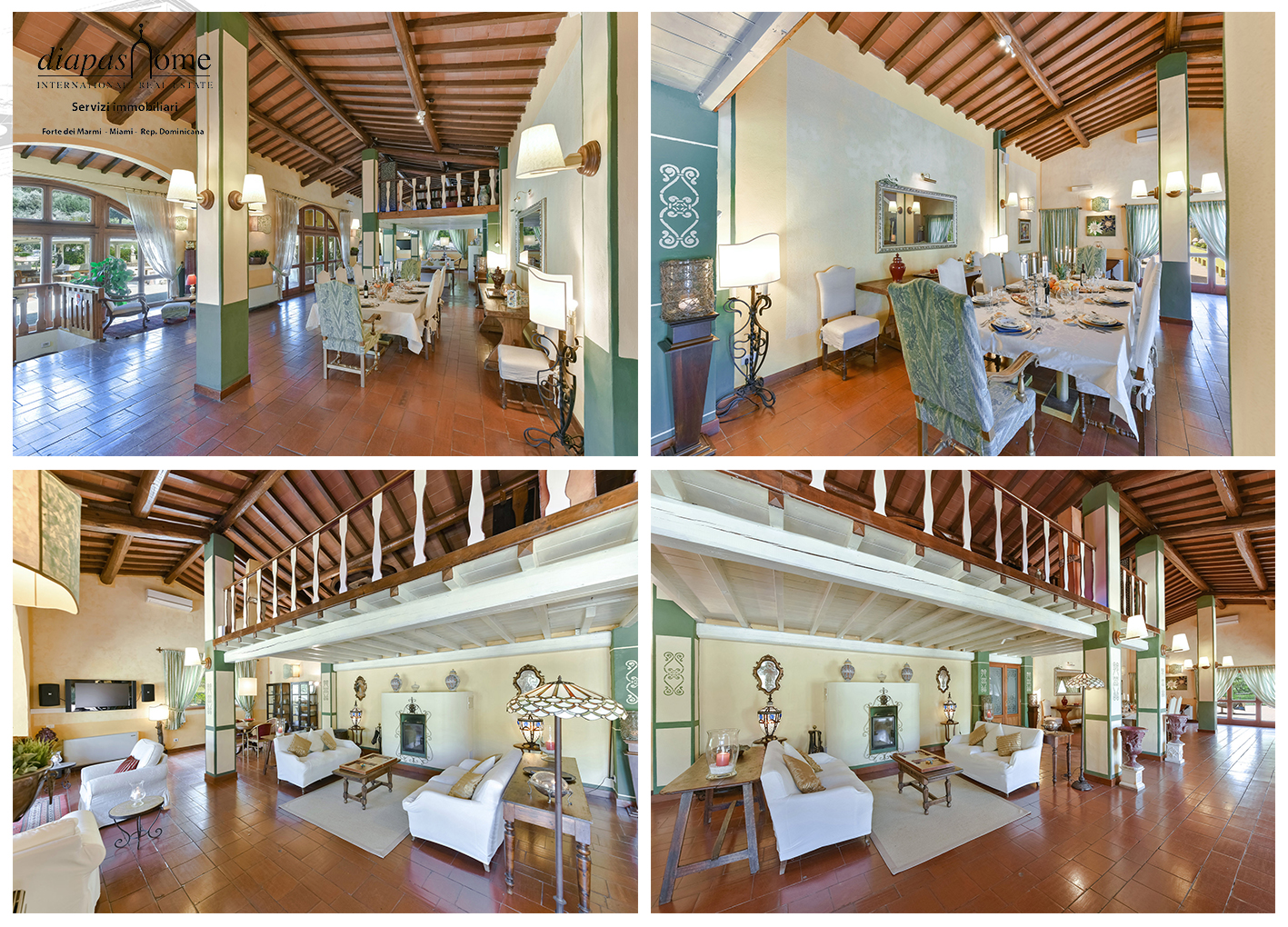 All'interno, oltre alle 5 camere matrimoniali e il grande living di ingresso con la zona giorno, con tv, camino e zona pranzo, si trova anche una sala per le feste con allestimento da discoteca, consolle da DJ, banco bar e grande terrazza esterna con una fontana illuminata. Un'ampia cucina attrezzata per chef e cuochi completa i serivizi della villa.
Inside, in addition to the 5 double bedrooms ,a large living room with living area, TV, fireplace, dining area, have a party room with Disco set up, DJ console, bar counter and large outdoor terraces with  lit fountain. Large kitchen equipped for chefs and chefs.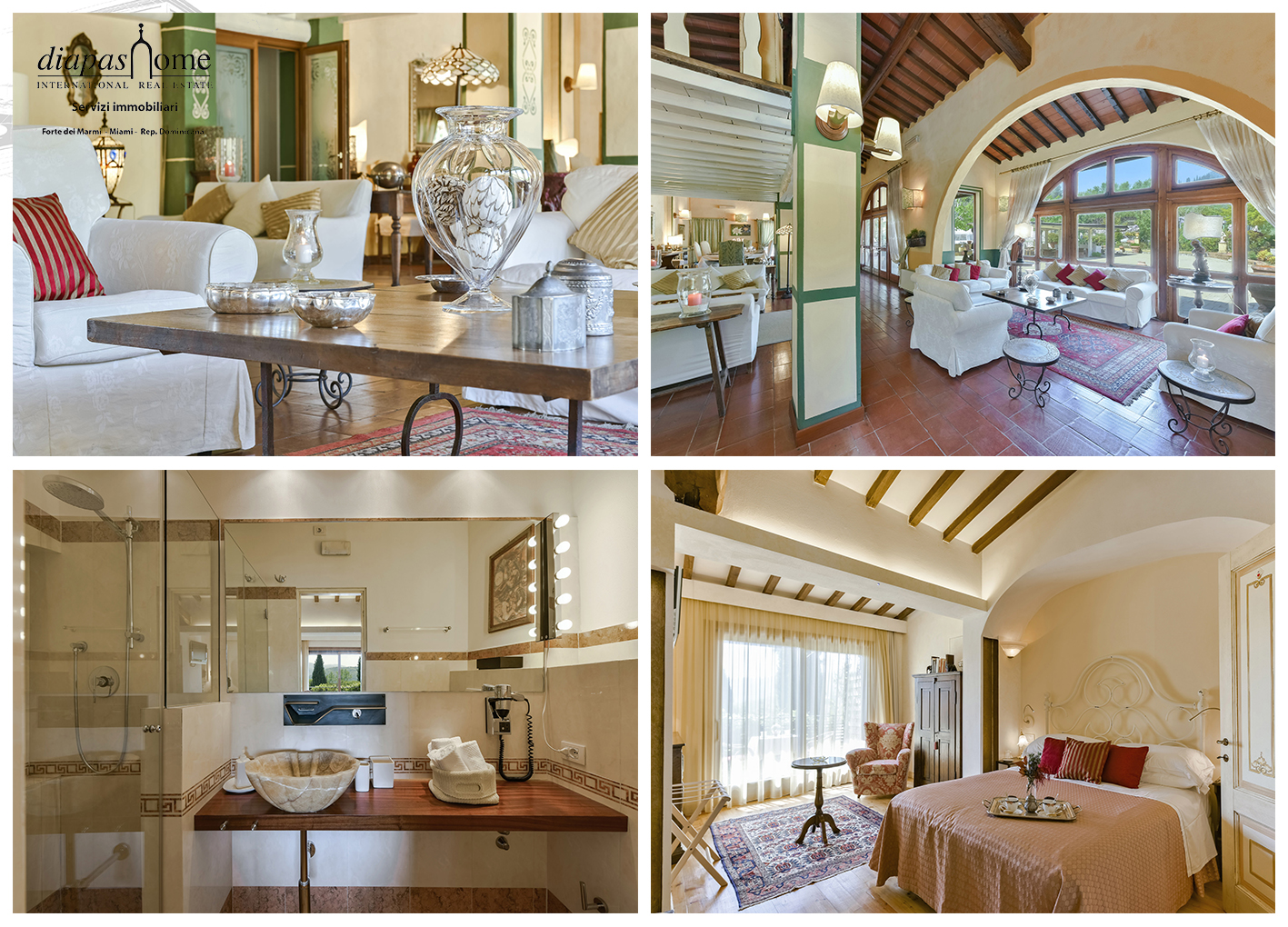 La struttura, di una metratura importante, è corredata all'esterno da un ampio (dimora ha un) parcheggio asfaltato e illuminato;  oltre che da un campo da tennis,  in erba sintetica, una grande piscina semi-olimpionica (25×12) con altezza fino a 3 metri, realizzata in cemento armato e a sfioro, con scala in muratura di accesso, ristrutturata nel 2014 con gli impianti di filtraggio rinnovati nel 2017.
The structure,  is fitted outdoors  by a large asphalted and illuminated parking; A tennis court, synthetic grass, 18 thousand square meters of garden. Irrigated automatically, with well-groomed beds and night lighting. A large semi-olympic pool (25×12) with a height of up to 3 meters, made of reinforced concrete and overflow, with a masonry access door, renovated in 2014 with refurbishing facilities renewed in 2017.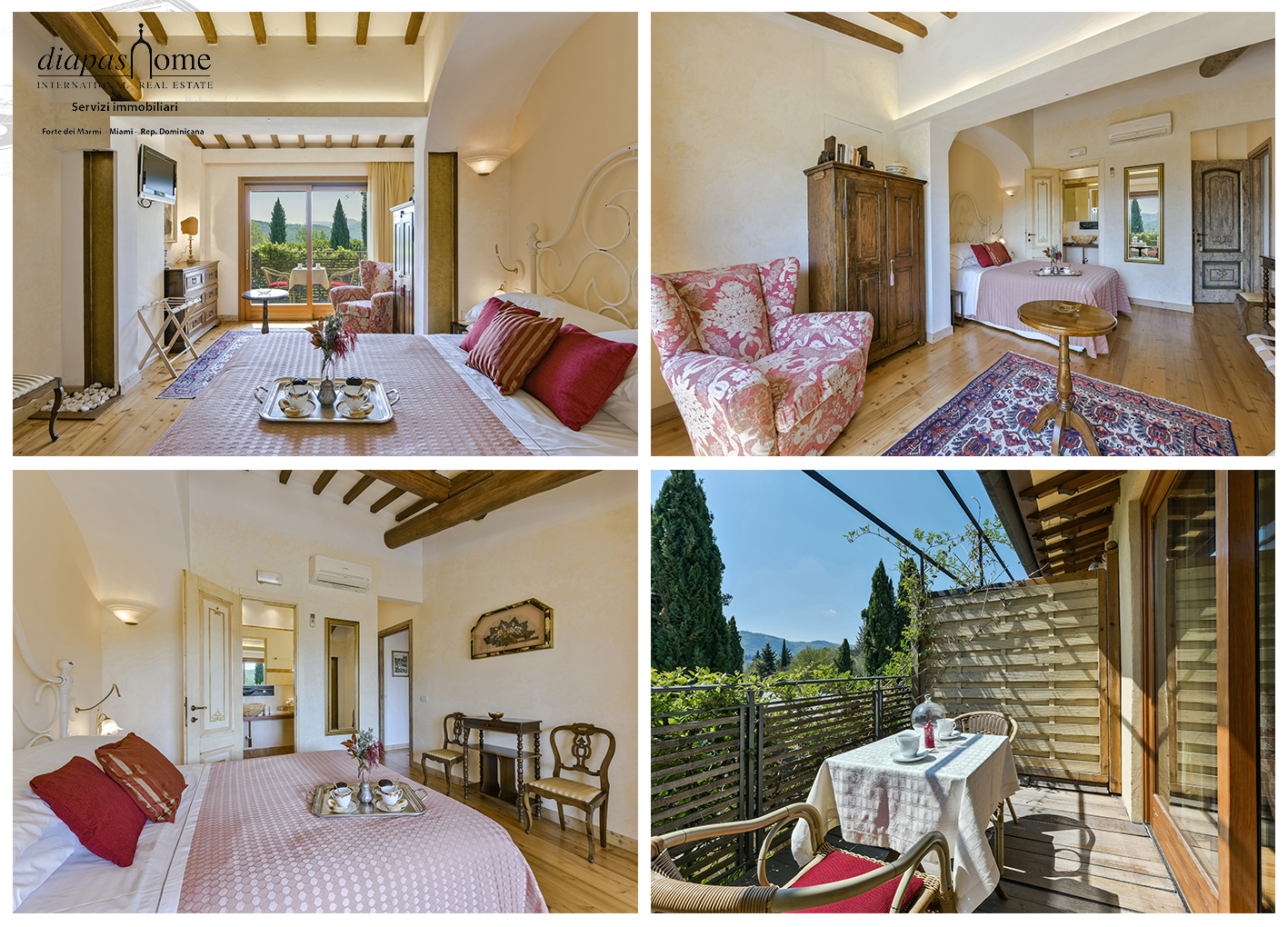 Sempre all'esterno si trova la vasca idromassaggio con 5 postazioni, interrata, e inserita in un'ampia zona relax con pedana in mogano e pergole in ferro che sorreggono un glicine quasi secolare. Infine un lounge esterno, sotto il grande gazebo in legno (60 mq), permette di trascorrere bellissime serate estive guardando il tramonto, oltre alle terrazze dove poter gustare le cene estive.
In the  outside there is  a hot tub with 5 seats, in-ground, and inserted into a large relaxing area with mahogany floor and iron pergolas that support a  secular wisteria. In the outdoor spaces there is  a lounge under the large wooden gazebo (60 sqm) where you can spend some beautiful summer evenings watching the sunset, besides the terraces where you can enjoy the summer dinners.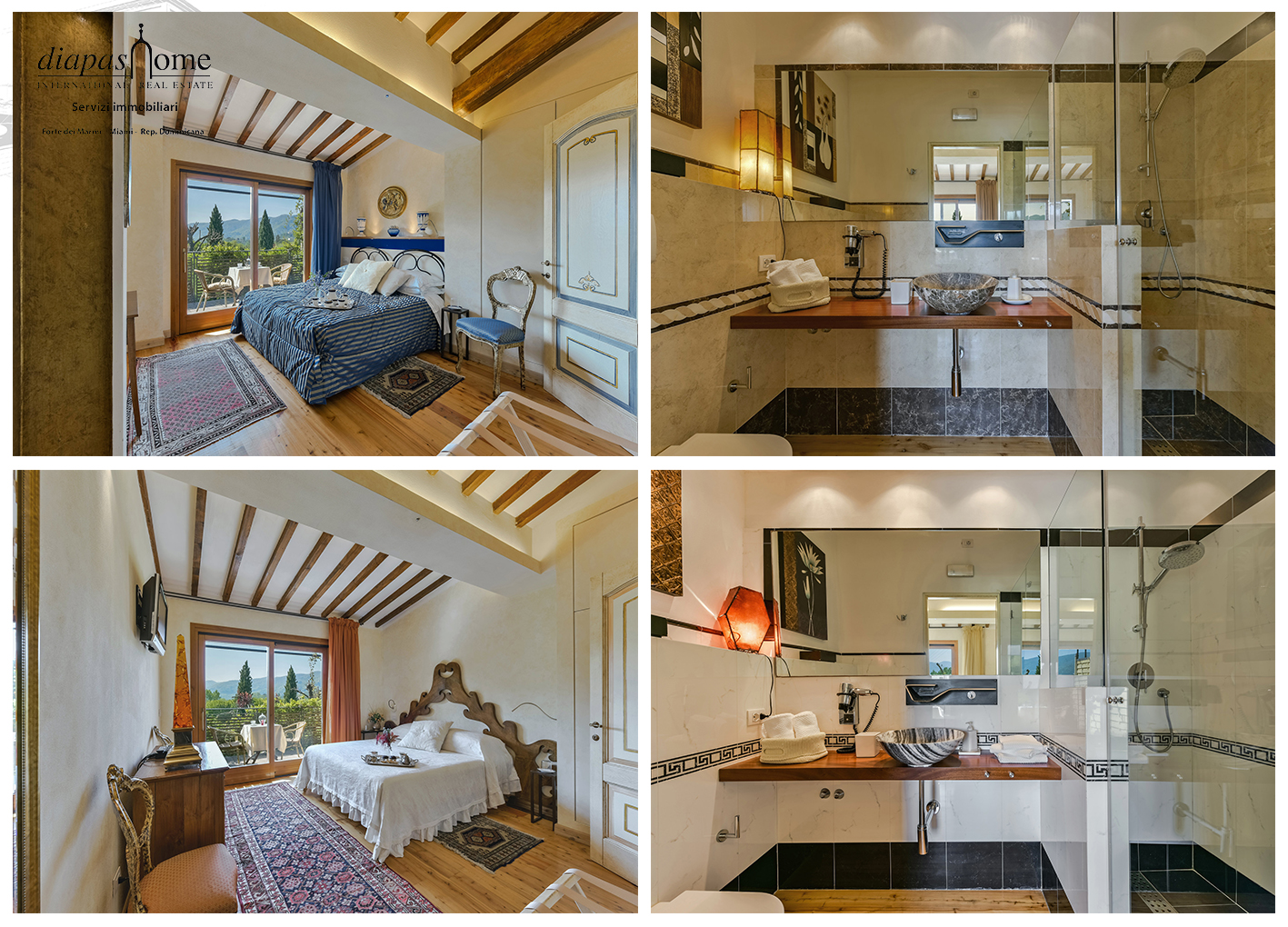 Gli impianti che corredano questa proprietà sono: pozzo di proprietà  con accumulo di 10.000 lt; pannelli solari per fornitura acqua sanitaria con un accumulo di 1.000 lt; autoclave, impianto di riscaldamento diviso tra caldaia a Gpl, elettrico con le pompe di calore, caminetto refrattario; impianto di aria condizionata a pompa di calore in tutte le camere, nel living e in cucina.
Property equipped with  a property storage of 10,000 lt. Solar panels for supplying sanitary water with a storage of 1,000 liters. Autoclave. Heating system split between GPL boiler, Electric with heat pumps, refractory fireplace. Heat pump air conditioning in all rooms, in living and in kitchen
La proprietà è interamente recintata e fornisce spazio per eliporto asfaltato. Il lastricato frontale è corredto da splendidi ed ombrosi ippocastani.
The property is completely fenced. The VILLA was the home of present owner's family. Actually is managed as a  tourist accomodation business  as a location events
Planimetrie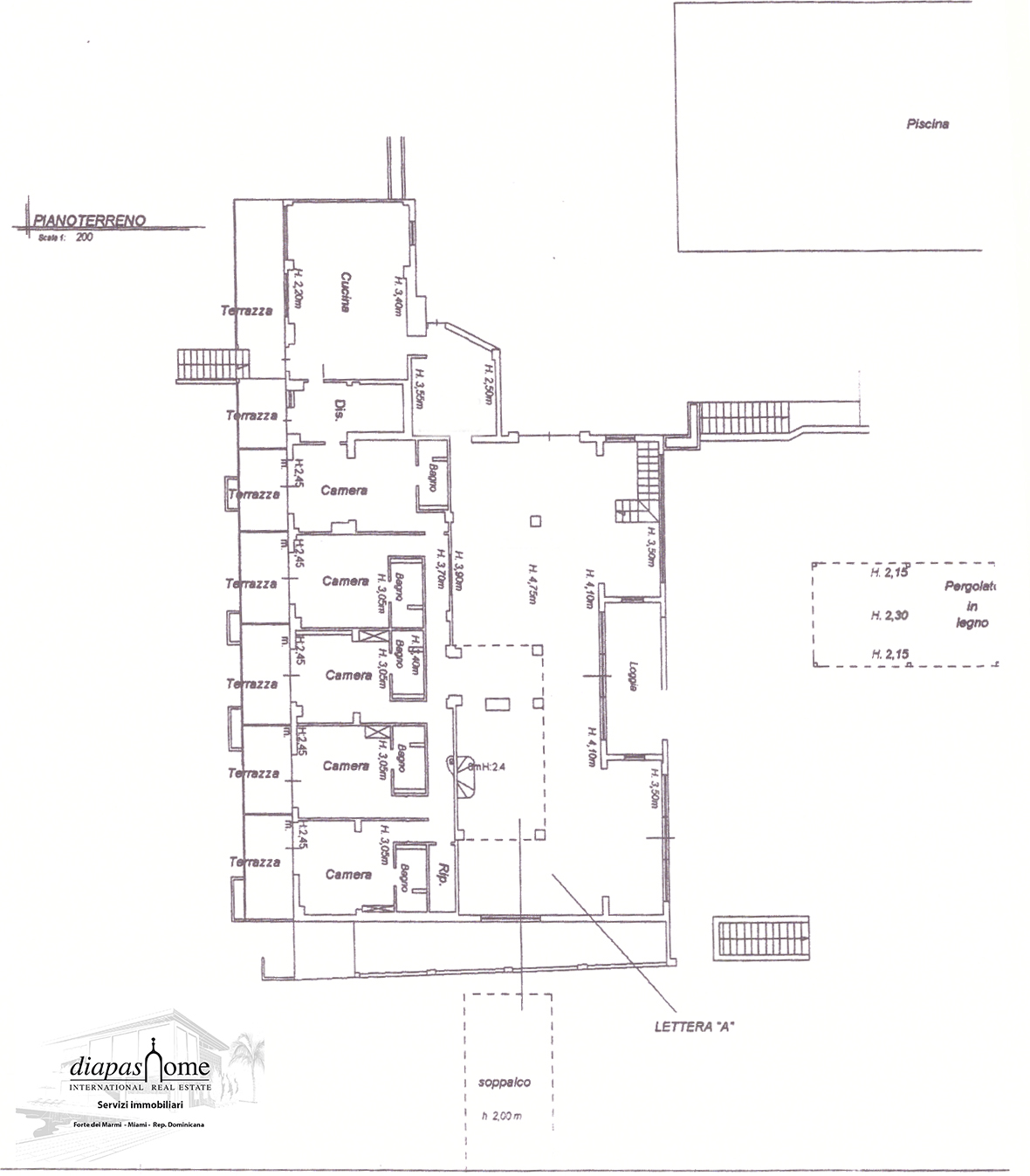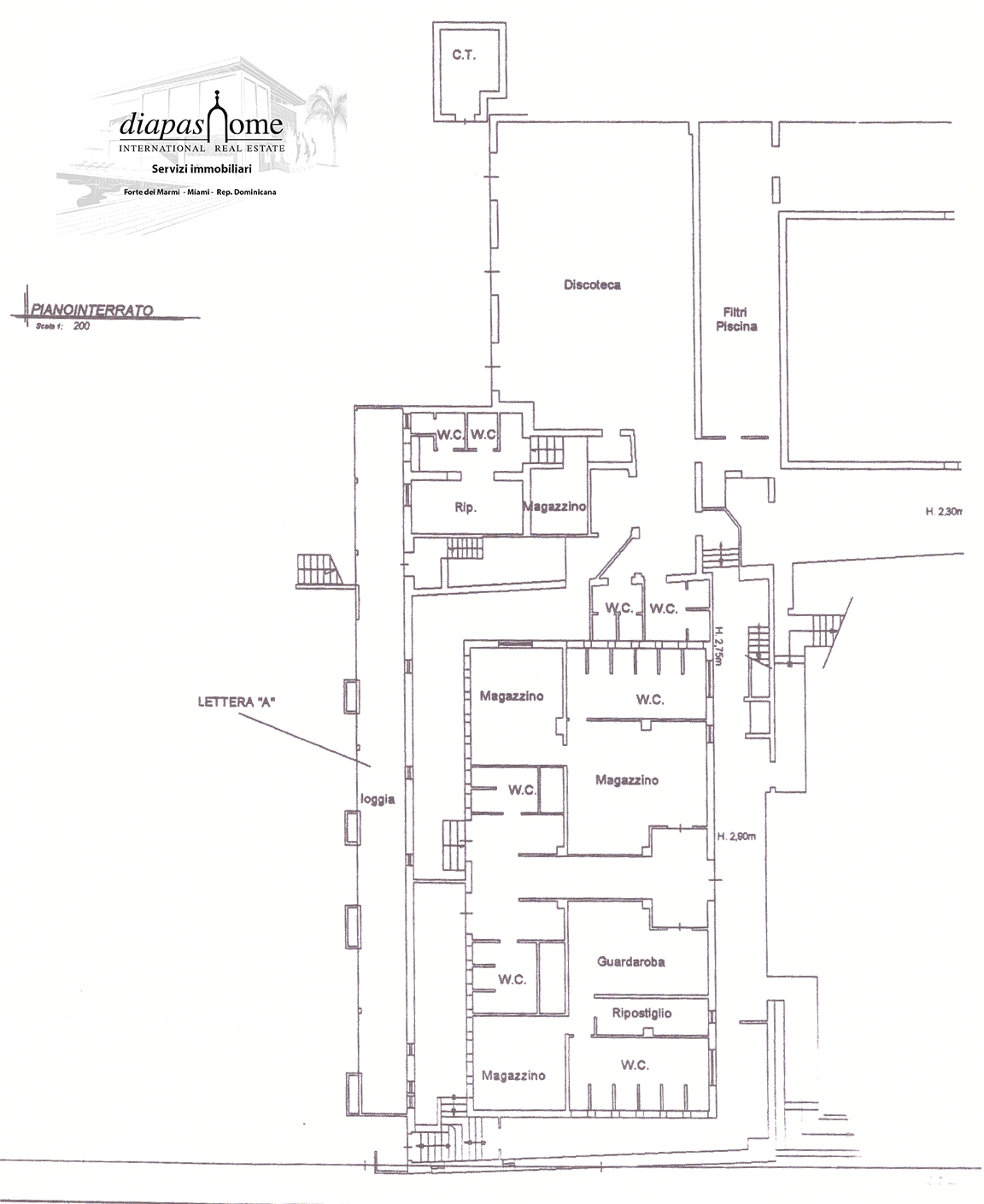 Tags:
comforts of home, estate, firenze, garden, giardino, holiday, investimenti, italia, luxury homes, piscina, real estate, swimming pool, vacanze, villa